Car Repeater 900 + 1800 MHz
Car Repeater 900 + 1800 MHz

We can't find products matching the selection.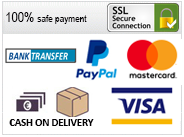 For orders within the EU from € 40,00
Ordered for 16H, delivered tomorrow
About us
The purpose of our company is to deliver quality and equipment that works. We want all our customers to be satisfied.
Contact
GSM REPEATER SHOP
Long Drive
Greenford, Middlesex UB6 8NB
Tel: +44 (0)20 308 671 12
© 2009 - 2019
/ All Rights Reserved.